TM-1100/1400/1600/1800/2000 manipulator
GENERAL DESCRIPTION
Panasonic presents the TM Welding Robot Series, this being the all new and unique generation of robots.
Customers have the possibility to decide freely whether to use an externally or internally mounted torch cable to match requirements of their applications.
Additionally the robot series benefit from a highly rigid arm structure and an improved and efficient servo motor, which provides an enhanced harmonious movement for the positioning of the welding torch.
With an all new high resolution encoder working in combination with the highly rigid arm, the TM robots provide improved path accuracy. Through this the TM robot fits optimally the requirements of a flexible and efficient welding process.
One arm - three different cable management
 
Specifications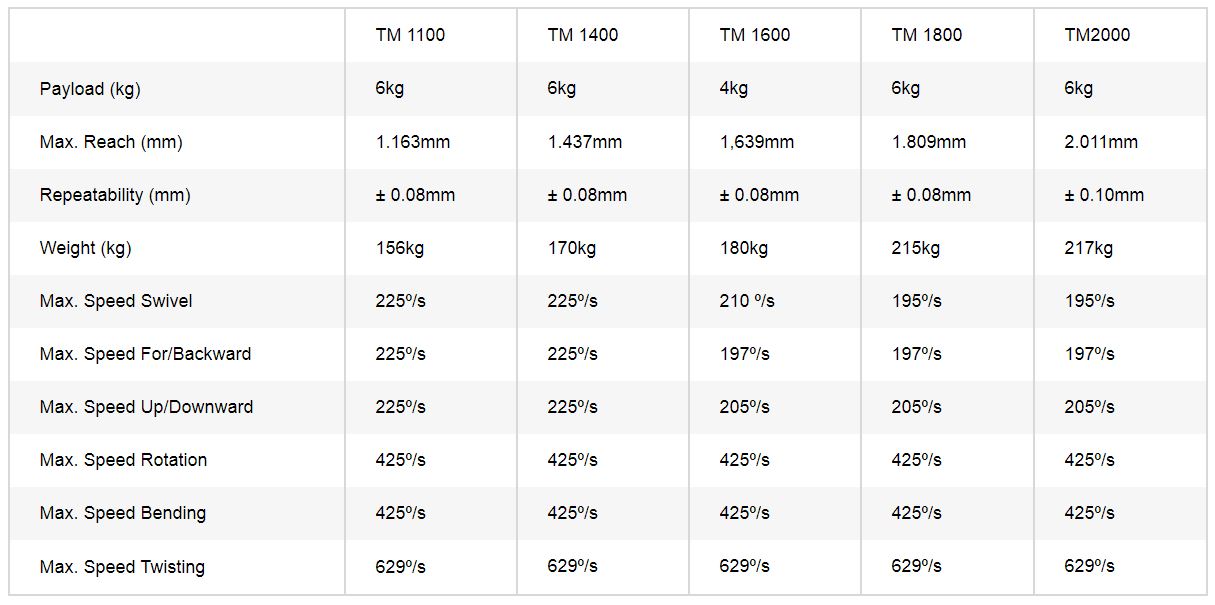 Supports three cable management systems
External cable management system
External torch cable and wire 
(+) Big and therefore good wire curvature
(-) Large interior due to cable weight and movement
Through-arm cable management system
Torch cable and wire  through the hollow shaft
(+) Small interior due to outside lying cables
(+) Ideal for offline programming
(-) Problematic wire management
Separate cable Management
Torch cables through-arm wire lying outside
(+) Big and therefore good wire curvature
(+) Low interior due to reduced cable weight