Panasonic PA-H-Frame-2DK system
Own developed welding robot system
System designed by our company
Production of all structural elements in Hungary
Self-developed and manufactured electrical control cabinet
Complete Panasonic robot and welding technology
CE conformity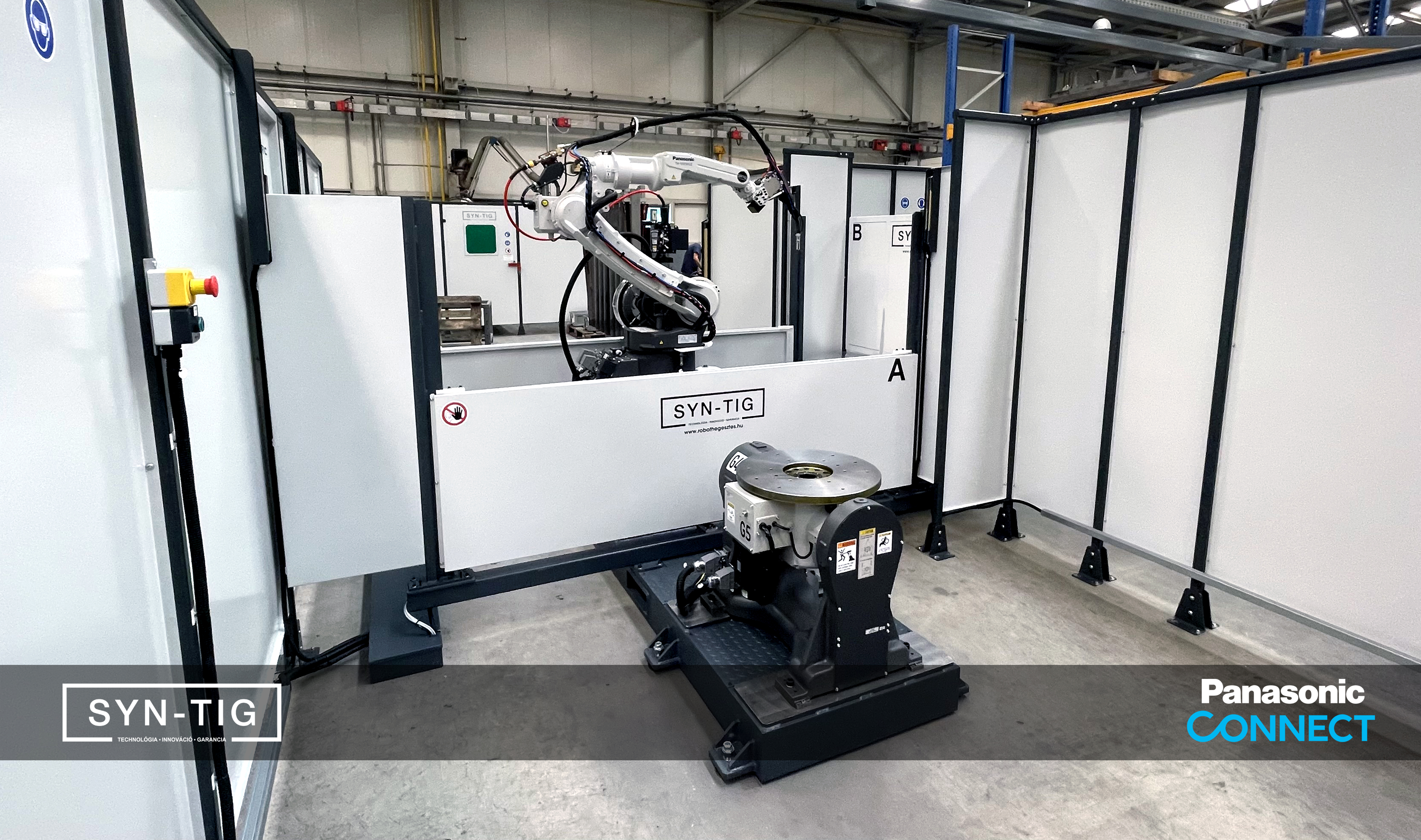 Standard features
Panasonic TM -1800WG3 (TAWERS) robot manipulator
Panasonic 350A integrated MIG / MAG power supply (B.i. for 350A / 80% and 350A / 60% pulse welding)
Panasonic G3 robot controller with teaching pendant and 10m cable
Panasonic 4-roller servo wire feeder integrated in the robot arm
Panasonic 400A, separate type water-cooled welding cable with safety holder
Panasonic RJC tilt and turn positioning device (2x) (Load capacity: 300 kg per side, which can be expanded as an option)
Panasonic Ethernet card
Panasonic I / O expansion card: 32 inputs / 32 outputs
Self-developed complete welding robot system
Protective walls and safety equipment
Control panels
Integrated torch cleaning station
Water cooling unit
Electrical control cabinet
Approximate weight: 3,000 kg
Options (Including but not limited to)
TM-2000 robot manipulator
WGH3 power source - 450A - 100%, even pulse welding process (Not available at TIG)
Super Active welding process (SAWP)
TIG welding process, thanks to TAWERS MIG/MAG/TIG power source (MIG/MAG/TIG package option)
500kg payload positioner
500A water cooled torch
Drum wire supply
Bigger working area
Properties
All important elements of the Panasonic PA-H-Frame-2DK welding robot system are Panasonic development and production (Robot manipulator, integrated welding power supply, robot controller, positioners, wire feeder, welding torch, welding software, etc.)
"All from one" - system solution to reduce the number of suppliers of different interfaces = increase productivity.
High quality arc welding, high production rate.
Distortion-free design, programming for easy transport without correction.
Easy program sharing when using multiple robots to increase productivity.
Customer benefits
Panasonic "all from one" welding technology - no separate interface between the robot and the power supply!
Being an integrated welding power source, there is no need to learn the controls of the welding power source
Optimal setting of all welding parameters using the Windows-based teaching pendant
Economical and flexible system solutions
Tested before shipment
Continuous Hungarian system production
Possibility to test at our site, incl. welding tests on customer parts
---
Related materials