Panasonic TIG welding robot system
Panasonic TIG welding robot system with TAWERS technology, which includes the benefits of TAWERS systems as well as MIG / MAG / TIG welding.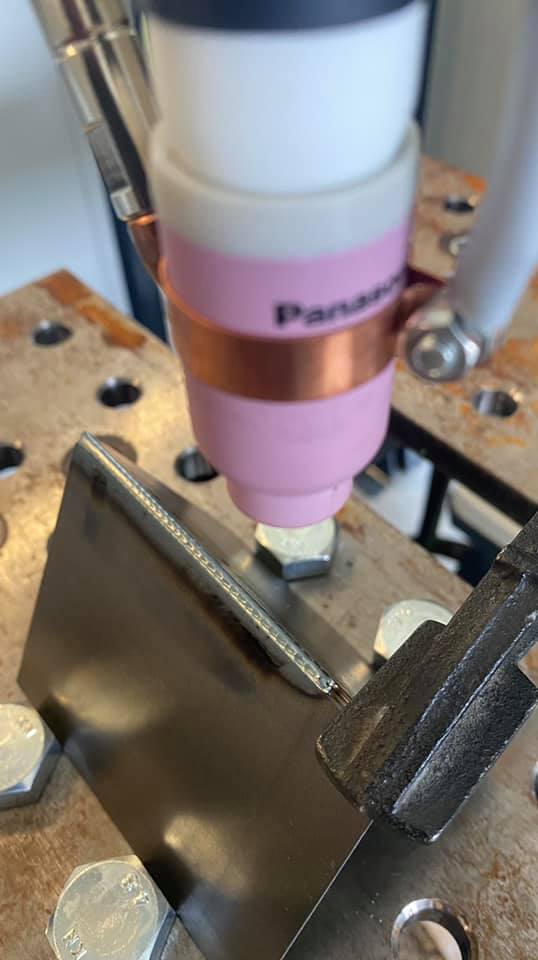 The integrated, inverter, pulse power sources of TAWERS-WG welding robots are excellent for MAG, MIG and TIG welding applications. Optimal welding processes can be achieved using the integrated inverter welding power source as well as the robot control unit, thus ensuring full system interoperability as well as a common control system. This ensures that TAWERS incorporates the MIG, MAG and DC TIG welding process through the benefits of fusion technology. Thanks to TAWERS fusion technology, the system can be easily modified to use different welding processes. All we need is the MIG / TIG package, which includes the welding torch and the WG-MIG / TIG software.
TIG robot welding system with linear shifter designed and made by our company.
Advantages of the TAWERS TIG system:
➢ Single power source for MIG / MAG and TIG welding
➢ The heat effect on the wire allows high speed welding up to 0.8 m / min
➢ Good workpiece accessibility due to the compact design of the welding torch head
➢ "Auto extension" automatic distance control (AVC) - Option
In addition to the already well-known TAWERS MAG / MIG benefits, the TAWERS TIG technology also has its advantages.
The complexity of robotic TIG welding may be due to the design of the device. Due to the cold wire feed, more space may be required near the weld. Since it is not like MAG / MIG welding, the welding wire and the tungsten electrode are separated from each other. This separation contributes to the biggest advantage of TIG welding, spatter-free welding. On the other hand, this separation results in a larger working cable head design, which has an effect on the design of the welding device due to the higher space requirements.
Designed for the Panasonic TAWERS system, the TIG work cable is extremely compact and suitable for cold wire welding. The compact design also allows welding in tight spaces.
TAWERS TIG sample video:
---
Related materials